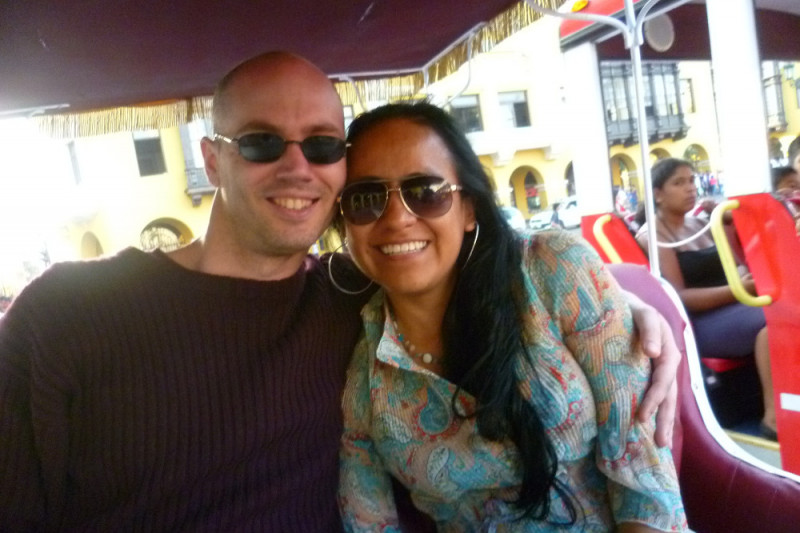 Maria and I first met on Fusion101. She was only looking for friends to better her English, and I was in no way interested in someone halfway around the world. I had had my profile up for one week when I decided to delete it. After all, I kept telling people I was waiting on God to bring the right woman into my life. The day I wanted to delete my account, I had no ride into town (I was out east at the time, studying). The very next day, that same day, I had a message from Maria. Because I respond to everyone, even if I am not interested in them (the considerate thing to do), I responded back to her and informed her that I was deleting my account but that if she wanted to write me she could do so to my e-mail.
We started e-mailing back and forth. Eventually we started communicating via ICQ, MSN, and Skype, utilizing video chat. The more we talked, the closer we drew together. After a while, we knew precisely where our relationship was headed. That is why the "About" section of this blog reads "The Klavers," because we trust God is uniting us in marriage, and so we are completely committed to one another. Five years in, I took a trip to Peru to meet her for the first time in person. With her parents' blessing, I proposed to her.
[Our engagement dinner, where I proposed to her in front of her family.]
I returned two years later so that we could be wed, but it never happened due to her fears. At the time, she did not have a Visa. She was worried that after we got married and applied for a Visa for her to return with me, that she would be denied. She did not want to be married and be left behind. I tried consoling her and reminding her that that was out of our control. Whether we applied then, a year from then, or 10 years from then, if they said "No," she would end up left behind temporarily while I could use our marriage certificate to apply for Permanent Residency. Sadly, the wedding never took place.
She now has the Visa, set to expire in just over a year. When I returned from my second trip, a year later I had had the money needed for our tickets. However, an old debt came back to bite me in the rear that happened to be precisely what I had saved. I paid it off faithfully so that I could be free of it. Shortly after, I lost my job. For the next three years I have bounced back and forth between temp job and unemployment insurance, never able to save the money required for the wedding. The struggle continues.
A friend of mine told me about websites where people raised funds for their weddings.
So I started a fundraiser for us
. While it seems like a long shot to me, I figure it can't hurt to try. After all, God is sovereign and can work in the hearts of complete strangers all across the world to donate when they encounter our fundraiser page. It would be awesome to see God help us in this way by providing this miracle for us.
Our wedding would not be anything extravagant. We just want a simple wedding. If it is at all possible, the money from our fundraiser goal will cover:
the cost of our plane tickets, and
the wedding ceremony.
If anyone reading this would be willing to donate, any amount is always appreciated. It is entirely between you and God. All prayers are greatly appreciated. Maria and I could fervently use all the prayers we can get. We have now known each other for 11 years, and while Jacob waited 14 years for Rachel, we really do not want to wait 14 years to finally be united in holy matrimony. While we are faithful and patient to God and each other, nevertheless I do not recommend our situation to anyone unless God has called you to it. This distance is hard on us, but we know that God brought us together and has moved in our relationship every step of the way (though slower than we would have preferred). So we could desperately use all the prayers you could give us.
Thank you and God bless!